FAQs
What is a Family Book?
---
Family Book is a possession of treasured memories with people and things which makes our reality beautiful. It is a structured compilation of everything important to your family which makes it special and unique. Some Segments incorporated include descriptions about family members, fond memories, specialities, pride of the family etc. Chapters in the book are customised according to the unique story that you want to script. This treasure descriptively explains your story in a beautiful format which compliments it.
---
Does a Family Book contains photographs? How is it different from a photo album?
---
We put photographs in the book to create connection between emotions and moment which existed in the past. Hence, photographs play a supportive role in scripting the memories, unlike a photo album.
---
I want a book to be created but not sure of the theme. What do I do?
---
We would love to help you figure out the kind of book you want to get scripted. Kindly drop in your request through our online enquiry form. We shall get back to you soon.
---
How long does it take to create and deliver the product. What is the overall turn-around time ?
---
The book usually takes around one month to get created. Normal delivery time with the product varies with the pincode. On submitting the delivery details, user may get to know the approximate time of delivery. Refer our section "How it works" for knowing the various stages involved (Check - 'How It Works section').
---
What all do I need to provide from my side and How?
---
Based on your initial request. We shall be contacting you to know your requirements better. After this we shall be sharing an outline for your book. This once approved from your end shall be followed by various checklist and online forms. You may share information as per the forms and checklist. Sit back and relax. We will script it for you.
---
Is my data secure?
---
Yes. Data which you share with us remains secure on our network and is shared with the team members assigned on your book only. We never share or misuse the data/ information which you provide and erase all data within two days of receipt of book by you and on receiving an all okay confirmation from your end. Refer Terms of Use/ Service Agreement and Privacy Policy segment.
---
How many pages does the book have ?
---
Depends on project to project basis. But usually varies in between 20 to 40 pages.
---
What are the product dimensions and weight ?
---
The standard book size is 12 and a half inch by 12 and a half inch. The weight of the product varies according to the user choice of preference of pages, style, material, etc. It normally weighs around 1500-2000 grams.
---
What is the quality of the product?
---
Our standard books are Case Bound Books having internal pages of (a) standard paper 300 gsm- matt laminated or (b) standard paper 300 gsm- glossy laminated or © Iris paper 300 gsm- not laminated. The internal pages are of the size 12 inch by 12 inch and are pasted back to back to create a seamless experience of a quality product.
---
Would I be shown the product before finalising and delivering ?
---
Yes. We would be showing two options for the cover page design. You may select one and let us know your preference. The script once finalized from our end shall be shared with you for your final consent. We shall also be sharing a soft copy of the entire book layout for your final confirmation before printing and delivery.
---
What if I don't like the product or I change my mind?
---
A lot of hard work and man power is involved to turn your book into reality. It is important that you do not change your mind once the resources/ team has been mobilized for working on your project. However there exists an exit mode which is linked with the payment schedule. Get in touch with our support team for further assistance on this.
---
Can I suggest changes to the book ? If yes until what point?
---
Yes, we are happy to hear from you during the scripting process. We would appreciate if you could share any specific requirements with respect to the final product in the initial phase itself. As mentioned in our section "How it works", we would share two design options with you for finalizing the cover page design and theme of the book before starting the compilation process. We would be happy to incorporate any suggestion in the option you select. Any design changes beyond this point shall carry additional charges.
---
What if I don't like the book theme? What say do I have to in it?
---
Based on your requirement, we would be showing two options for the cover page design. You may select one and let us know your preference.
---
Does there exists a difference between the colours I see on electronic device and the colours that are printed on the book?
---
Photos seen on screen of electronic devices are created by combination of RGB [Red, Green & Blue] colour model. In this, different quantities of Red, Green and Blue lights are added together in various ways to reproduce broad array of colours. Whereas, the printing process of any picture involves CMYK [Cyan, Magenta, Yellow & Key (Black)] colour model, which works by masking the colours. The ink reduces the light which is otherwise reflected when seen on any electronic device. The printer adjust itself automatically to produce the original colours through CMYK colour model. Hence, there exists a difference between what you see on electronic device and what you get as a print.
---
What is the pricing of the product?
---
Since our products are fully customized, the prices are decided on a case to case basis. We don't compromise on quality as customer satisfaction is out utmost priority. We also do bulk orders. To give you an idea, the book in this video would cost starting INR 25,000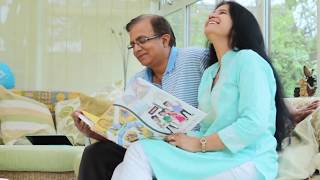 ---
How and when do I pay for the order?
---
After the user's confirmation to create the Family Book, an advance payment of 50%, i.e., 25000 INR, is to be paid through e-payment modes to Prarabdha Info Solutions Pvt. Ltd. The remaining 50% will be transacted once the final soft copy of the product is shared.
---
Is the price negotiable ??
---
Connect with us to know what best we could do to meet your requirement.
---
Can I place a bulk order ?
---
Yes. You may let us know your requirement. We will work on it accordingly.
---
I want to place the order but need it quickly .. is it possible?
---
We will definitely try our best to meet your requirement. Connect with us to tell us more.
---
How will I be contacted ?
---
Our first choice is to meet you personally. But due to long distances, we may contact you through whatsapp, video conference / call, skype, phone, mobile, email or any other mode which is convenient for both of us. Fill in the Enquiry Form and we will email you to start with and then take it forward as per your preference.
---
What if the delivered product is damaged?
---
All our products are insured. But in case it is damaged we shall be happy to provide necessary help.
---
Is there a return policy if the product is damaged or not as per my requirements?
---
The entire product is developed based on user requirements only and have important approvals from user in different stages. Any disagreement on the requirement may therefore be brought to our notice well in advance of making the final payment. Approval for each stage will be treated as a go ahead signal from the user and would levy necessary charges.
---
Where is your office based and can I come over to be involved in the process physically ?
---
We are based in Delhi. You are most welcome to visit our office and be physically involved any time during the working hours of 0900hrs to 1700hrs Monday to Friday. Our address may be referred from website.
---
How much of my own time will be spent in the whole process?
---
The book usually takes around one month to get created. Normal delivery time with the product varies with the pincode. On submitting the delivery details, user may get to know the approximate time of delivery. It is an investment for a lifetime and beyond, so don't worry too much about it :)
---
---